In last month, IBM Content Navigator (ICN) 3.0.6 is introduced. I've applied this new release with IBM Case Manager (ICM) 5.3.3.0. After successful upgrade and deploy ICN 3.0.6 there was a new problem occurred while preview documents in IBM Case Manager Client desktop which is elaborated here: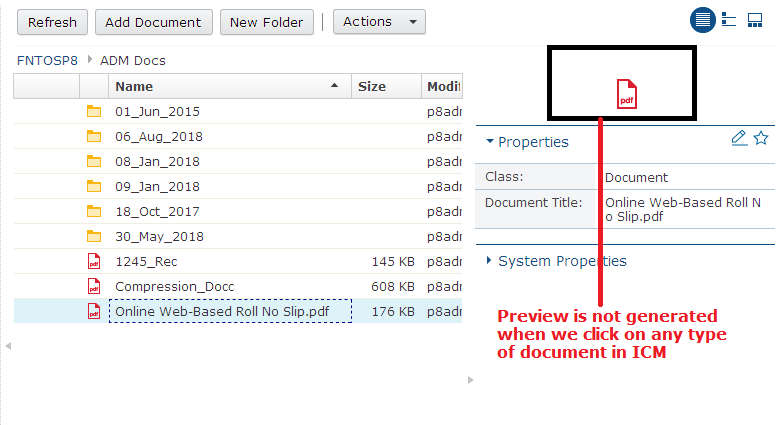 By default when we click on any document in ICM, its thumbnails / preview automatically generated according to its mime type. But in this case, it doesn't work and only document type was mentioned instead of preview document. Below is the error screenshot:


The document might have been deleted, the repository server
might not be running, or the viewer cannot convert the selected document.
Close the viewer, refresh the list of documents, and try to open the document again.
If the problem persists, contact your system administrator with the following information:
java.io.IOException: java.util.concurrent.ExecutionException:
com.ibm.mm.viewer.CMBDocumentEngineException:
Document was not recognized as a supported format.
I've also tried these two tech notes but didn't work in my case.
https://www-01.ibm.com/support/docview.wss?uid=swg21992118
https://www-01.ibm.com/support/docview.wss?uid=swg21999391
But no luck. After talk to IBM Rep, identified that ICN 3.0.6 is yet not supported with ICM 5.3.3.x version but its upcoming ICN FP 3.0.6.x will be supported with ICM.
One can also confirm ibm software compatibility report as well. So there is only one option to revert back ICN to its previous version or state.
There is one more solution that is posted by IBM on 23 March 2020, you can also try this please: https://www.ibm.com/support/pages/node/6113362?myns=swgother&mynp=OCSSEUEX&mync=E&cm_sp=swgother--OCSSEUEX--E
Solution: Please read this post.