Document Classes in Administrative Console for Content Platform Engine (ACCE) take a long time to load or expand if they have a more than 50 sub classes.
Navigate to the root Document class than the browser will respond slowly and take minimum eight minutes in IBM FileNet ACCE. If the Document class has over 100 sub classes it will take several minutes. If it has over 100 classes it may hang.
While loading or expanding document classes in IBM FileNet ACCE we enable console log to check how much time it will take. So it took around eight minutes to load sub classes because root Document class has more than 100 sub classes. This is defect or known issue encounter in IBM Content Platform Engine (CPE) 5.2.1.7. Here is the screenshot: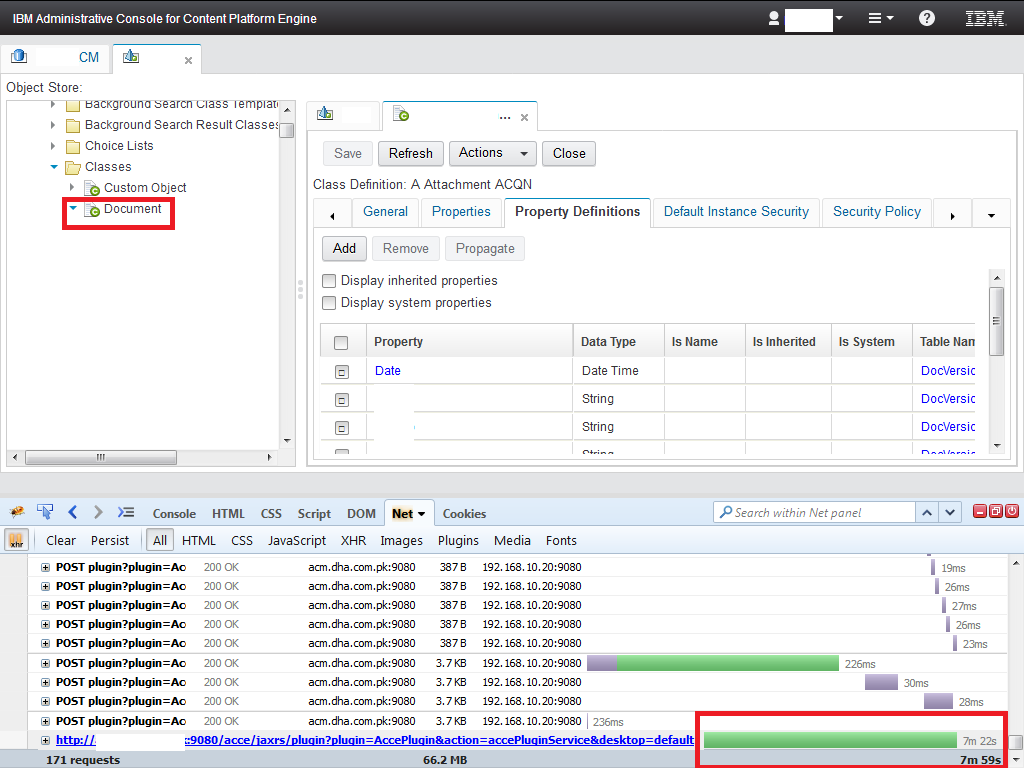 Environment:
IBM Content Platform Engine (CPE) 5.2.1.7
IBM Case Foundation (CF) 5.2.1.7
IBM WebSphere Application Server (WAS) 8.5.5.11
Solution:
The recommendation from IBM, to structure their class hierarchies to keep the number of sub classes to less than 50 so that loading or expanding don't take long time but this will not always be possible.
Fixed in CPE 5.5.1.0 and higher versions. The recommended option is to upgrade to 5.5.1.0 and higher. Performance improvements in CPE 5.5.1.0 involved widespread changes across the IBM FileNet ACCE code base, and architecturally.
More details please visit: https://www.ibm.com/support/pages/apar/PJ44953