AlFresco Your Authentication Details have not Been Recognized problem has been identified while logon to alresco when user is locked in ldap or active directory. This issue is occurred when user attempted to logon to alresco many time may be because of wrong password attempts.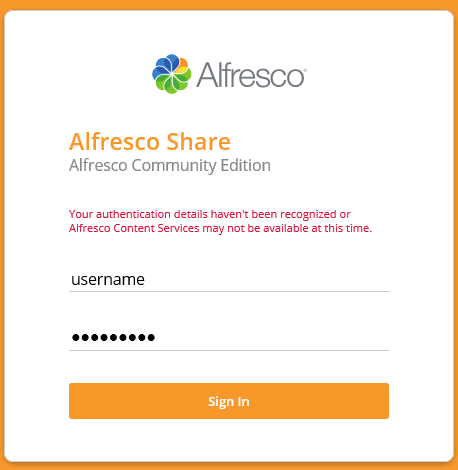 However, this problem is not happening with all of the users but the few ones which are locked in Active Director.
Envirnonment:
AlFresco Couumity Edition 5.1 / 5.2
Tomcat 8.x
Windows Server 2008 / 2012 / 2016 (Enterprise / Express)
Solution:
First of all go to the alfresco server.
Edit the /opt/alfresco-community/tomcat/shared/classes/alfresco-global.properties file.
Add this line right under #start ldap configuration# section.
authentication.protection.enabled=false
Stop the alfresco services (/opt/alfresco-community/alfresco.sh stop).
Start the alrescro services (/opt/alfresco-community/alfresco.sh start).
Finally, you will see there will be no more error occurred of alfresco your authentication details have not been recognized while login. For details, plesae visit: https://docs.alfresco.com/content-services/6.0/config/