CDEWG3401 the following view definition cannot be found error is received as a solution page. When multiple custom views associated with the page, loads in Case Manager client, and after solution deployment.
Error Description:
CDEWG3401 The following view definition cannot be found. Contact your system administrator to ensure that the solution is deployed correctly and that the correct view definition is configured for the Properties widget on this page.
Problem:
In addition, when you logon to IBM Content Navigator desktop and tries to open work item or case from case manager client, you might receive the below mentioned error: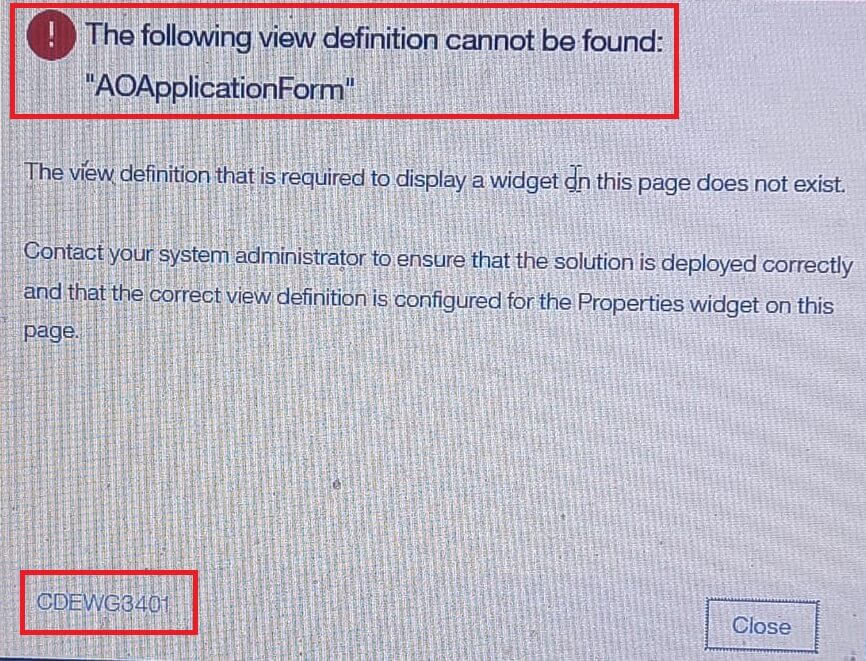 Environment:
Case Manager (ICM) 5.3.x
Content Navigator (ICN) 3.0.6.x / 3.0.7.x
Content Platform Engine (CPE) 5.5.x
WebSphere Application Server (WAS) 9.0.5.x
Resolving Problem / Solution:
If you are on ICM 5.3.1.0 release, than please read this apar and make sure to apply fix pack as described here PJ44960.
However, error CDEWG3401 occurs when multiple users access the same IBM Case Manager from IBM Content Navigator using the same browser session. Morever, the security integration option is enabled in the WebSphere Application Server session management. To resolve this problem, just perform the following steps accordingly:
First of all, Logon to WebSphere Application Server admin console.
Secondly, Navigate to Application servers > server1 > Web container > Session management > Security Integration.
Uncheck or disable Security Integration option.
Apply and save these settings.
Restart the server where icn or icm is deployed.
Try to login again, you will see error or exception will not occurred again.
Furthermore, please visit the following tech notes for more details:
https://www.ibm.com/docs/en/content-navigator/2.0.3?topic=tpcnwc-logging-in-repository-as-different-user-in-session-can-result-in-websphere-application-server-error