Since IBM has launched IBM FileNet P8 related tools such as; Process Designer and Process Administrator which were previously available in IBM FileNet Workplace XT initially. Later on, thesethese features shift to Advanced Content Console for Content Engine (ACCE) and Content Navigator (ICN).
As you installed and configured IBM CPE 5.2.x or 5.5.x versions, by default these features are available in ACCE. On the other hand side, these features can also be enabled in IBM Content Navigator as well on specific desktop if needed. So, how to enable process designer in ICN without workplace XT?
Step by Step Instructions:
You can enable Process Designer to be run from IBM Content Navigator by configuring the appropriate desktops and menus which are demonstrated step by step as under:
Browse to your Content Navigator admin URL ( http://<icn-server>:<port>/navigator?desktop=admin )
Go to Settings > Plug-ins > New Pugin.
Type the url of plug-in or use the installed path of plug-in.
Register CPEAppletsPlugin in ICN.
Save and close Plug-ins section.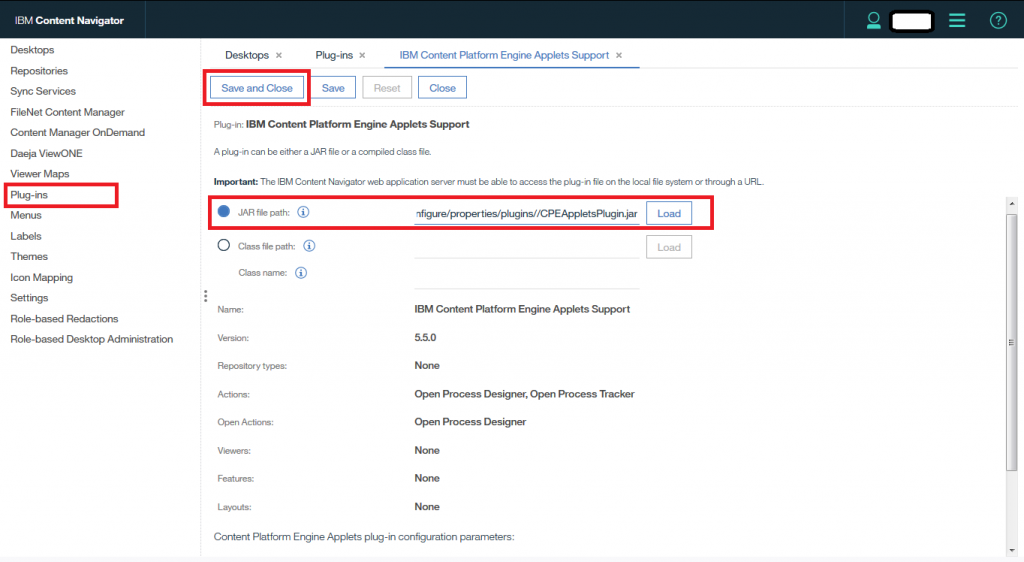 Go to Repositories and select your FileNet object store (e.g. FNTOSP8).
Connect to the object store.
Go to Configuration Parameters.
Scroll down and set "Display workflow definition class" to TRUE.
Save and Close to update your configuration.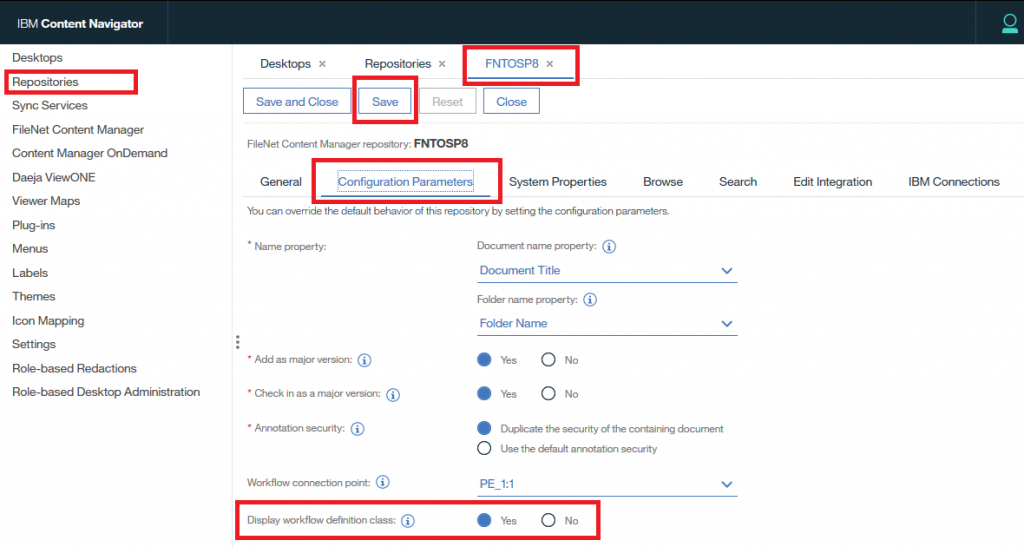 Go to Menus and scroll down to Default repository context menu.
Type in a name (e.g. My Repository context menu).
Scroll through the "Available" ICN actions and select Process Designer and Process Tracker.
Click the arrow to add these two actions to your new menu.
Save and Close to create your new, custom ICN menu.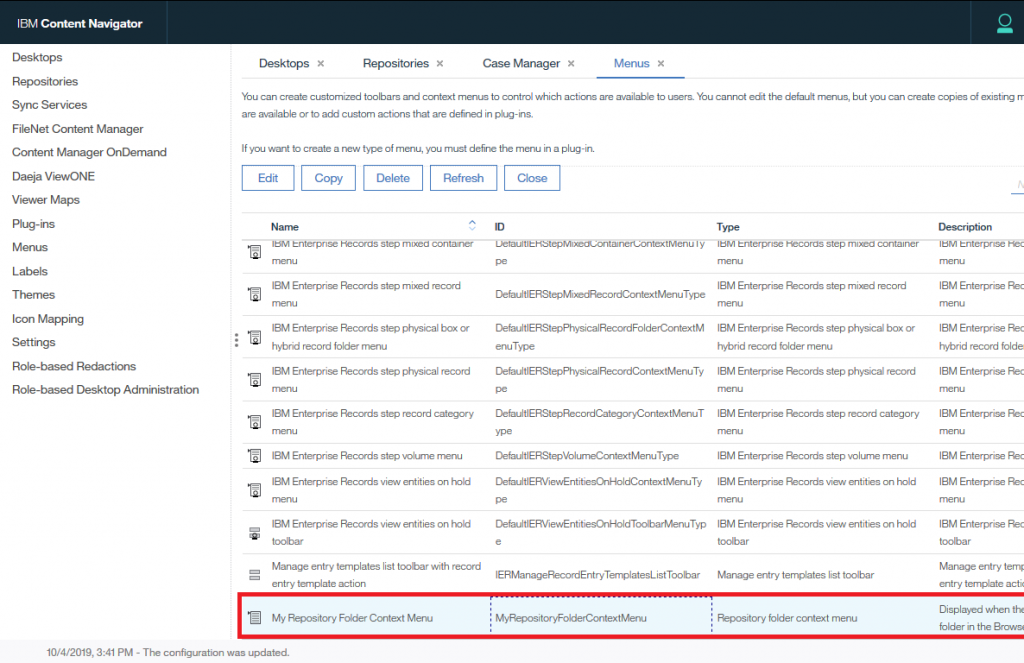 Go to Desktops, Select an existing desktop, or Add New Desktop.
Change Default Repository folder context menu to My Repository Folder Context Menu.
Save and Close to update your configuration.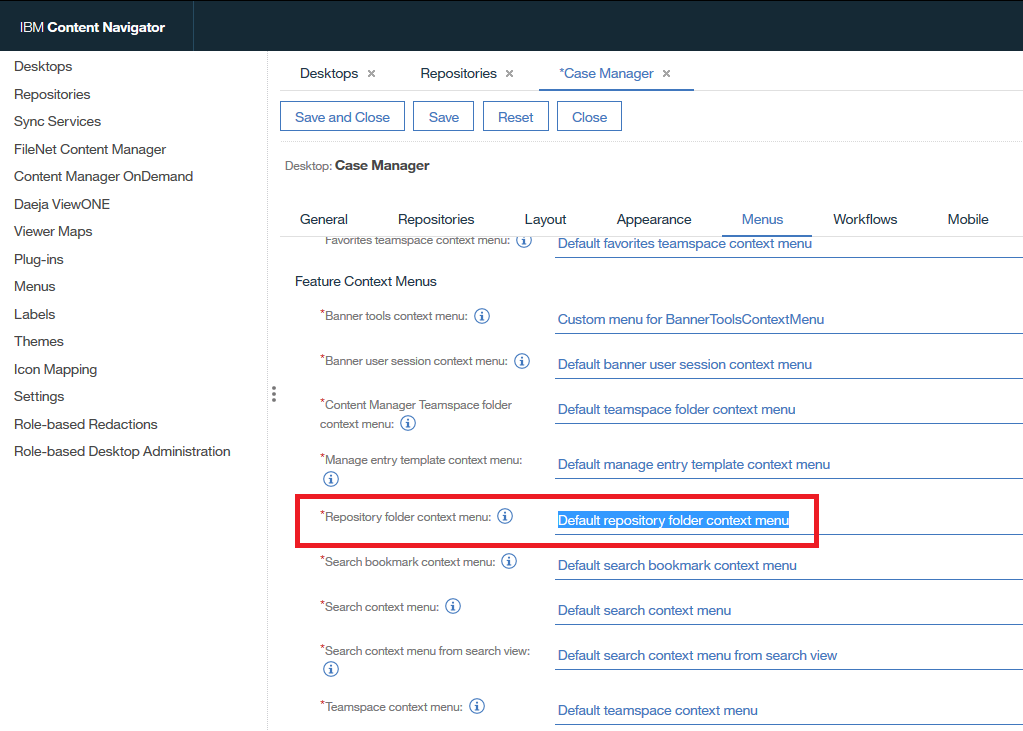 Once you made above changes accordingly, logon through desktop for which you have configured process designer in icn.
Right click on top of the desktop repository name e.g. FNTOSP8 (In my environment).
You will see there is option of Workflow and furthermore these two options are available; process designer and process tracker as you can see below: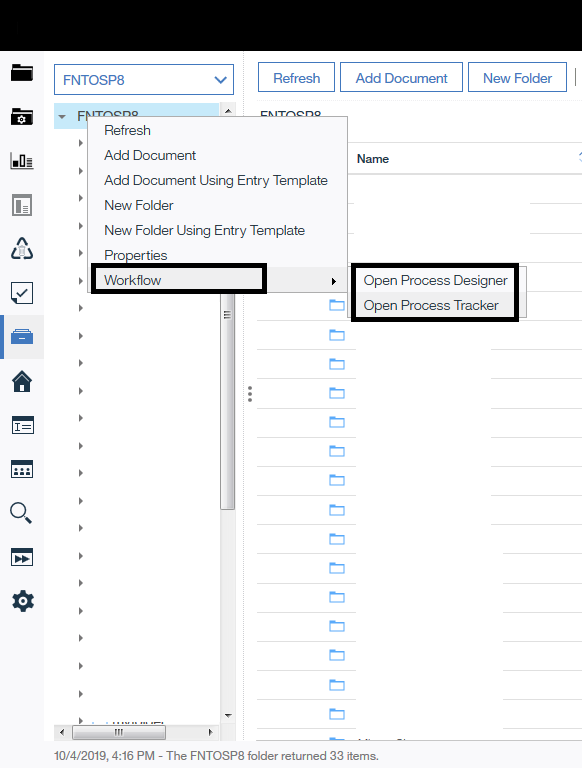 Hence, how to enable process designer in icn can be done by doing above steps. For more information please visit: Configuring Process Designer to run from IBM Content Navigator.